My father was given '2 weeks to live' with stage 4 cancer. He's followed your protocol 4 years cancer free!"


– Jennifer Maloney, LMT Mundelein, IL
"My HIV AIDS viral count was in millions before starting your program. After 3 months doing your anti-viral protocol my viral count went down to the thousands! Today my viral count is considered "Undetectable" by six different blood tests."


– Emily Sunderland, Carlsbad, CA
Qigong uses natural foods to reverse many types of illness. A major part of our Qi Revolution events focuses on teaching people how specific foods can help REVERSE specific diseases. Many foods, kiwi for instance, have helped hundreds of our students reverse asthma.
*Fruit rich in vitamin C and wheezing. Thorax. 2000; 55, 4
Conquering Any Disease book was published in 2005 and edited annually ever since. It has sold over 100,000 hardcover copies. Many acupuncturists, physicians and therapists rely on it for food-based wisdom that really works. Its the most popular book in many clinics and waiting rooms for ease of reading and scientific support.
Diseases like autism, cancer and Alzheimer's are increasing at an alarming rate. Fruits, vegetables, tonic herbs and medicinal mushrooms contain phytochemicals that unlock our body's endocrine and immune system. Unfortunately, many people do not get enough of them and this is causing humanity's cancer crisis.
*Carotenoids in humans and risk of breast cancer. J Natl Cancer Inst. 2012;104, 24
Adding in avocado seed to a delicious fruit and vegetable smoothie is a great way to maximize your phytochemical intake along with blending seeds and skins of the apple. Sunlight, breathing techniques and high vibration foods are God's natural medicine.
*Avocado Seed as source of phytochemicals. Pharm Des. 2013; 19, 34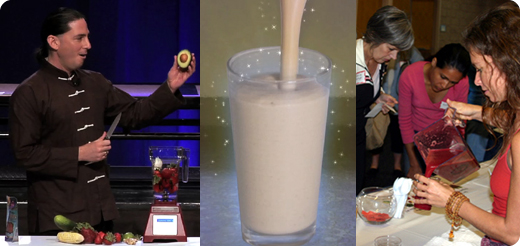 Food Healing Science – 5 Hour Seminar
5-Hour Video introduces Conquering Any Disease system and Free Radical Science. Make sure relatives and people you love learn about radicals! Jeff continues outlining the 18 Categories of Phytochemicals and then covers every healing food Acai-Watermelon. As a bonus, Dr. Claudia Gabrielle, MD gives 30 minute presentation on recent changes in medicine and foods that boost serotonin to help depression.
Today in 2017, more human food studies back our food-protocols and shed light into why they've worked all these years. Dr. Claudia Gabrielle, MD was inspired by the Qi Revolution food presentations, which are now available on video.