Complete Food Healing Books Package
We have three packages sharing the best of our Qigong and Food Healing wisdom. Our fulfillment house SHIPS BOOKS same or next day. Vimeo processes all VIDEO purchases giving stream anytime ownership.
BOOKS package is for people who love learning about Food and how it effects us. Our books are easy-to-read, science supported and recipes are easy to prepare. Save $30 with FREE SHIPPING in the USA on this package.
Includes: Conquering Any Disease (300 Page – 2020 Edition) — Food Science & Protocols Smoothie Formulas — Healing Smoothie, Snacks, Pepper Paste Cooking with Qi — Hot Meals, Healing Sauces, Desserts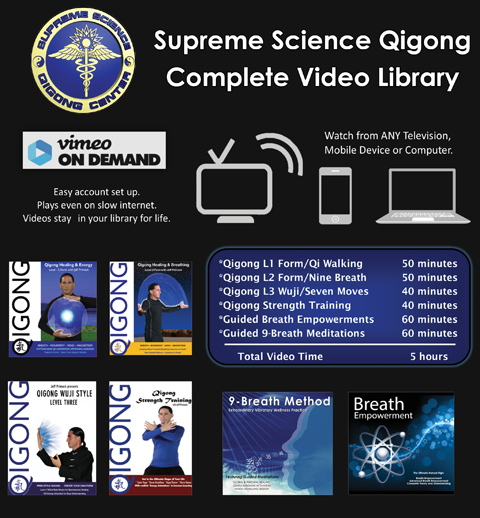 Complete Qigong Video Package
VIMEO is a world leader in HD Video streaming providing crisp resolution and fast play speed for our friends worldwide. TVs, Phones and Pads can use Vimeo's Free App or watch at: www.vimeo.com

VIDEO package saves $125 off ordering separately and allows you to PLAY ALL our Qigong and Food Healing Videos for life. Payments for Videos are processed through Vimeo.
Includes: 
Qigong Level-1 HD Video – 42 Min: Routine with realistic energy animation and custom music. Level-1 is our main practice and the video's animation deepens experience of Qi.
Qigong Level-2 HD Video – 34 Min: Routine with realistic energy animation and custom music. Bonus Jeff/Kai explain 9-Breath Method.
Qigong Level-3 HD Video – 40 Min: Animated instruction in 7 Wuji movements. Learn to step and balance like a Tai Chi expert.
Qigong Strength Training Video – 43 Min: Intense routine with warm up, Tao stretching, body-weight exercises and more.
Guided Breath Empowerment Series – Two 30 Min practices.
9-Breath Method Series – Three 45 Min practices