Qigong Strength Training nurtures the body and people with injuries can practice it. Emphasis is on body-weight and using gravity to build muscle and making your body stronger. Anyone can do Qigong Strength Training, even the severely injured. Mike Maier, a retired pilot and martial arts seeker was so badly injured he couldn't hold his arms above his head for more than ten seconds.
"For years I was depressed I could no longer hardly exercise due to injuries. Qigong Strength Training has healed my shoulder completely and I can now do 200 Push-Ups without any pain! This is more than a workout. It is a healing practice that has given me my athletic edge back. Thank you."
– Michael J. Maier Osprey, FL
Horsestance is a classic that boosts hormones and engages muscular endurance in a way that few other exercises can. We use it to build leg strength, bone density and strength of spirit.
HyperThrows use super-fast followed by slow-brush movements. This works wonders for circulatory issues, building speed, strength and giving a burst of energy. We use both fast and slow (yin and yang) movements to open arteries and expand blood flow more than traditional exercise.
Enlightenment requires a body that can hold light. Fitness is not only about muscles; it's about the nervous system. Learning the principles of Qigong Strength Training is balancing to injuries and if practiced regularly, sculpts the body into top shape. We suggest practicing in the morning every other day.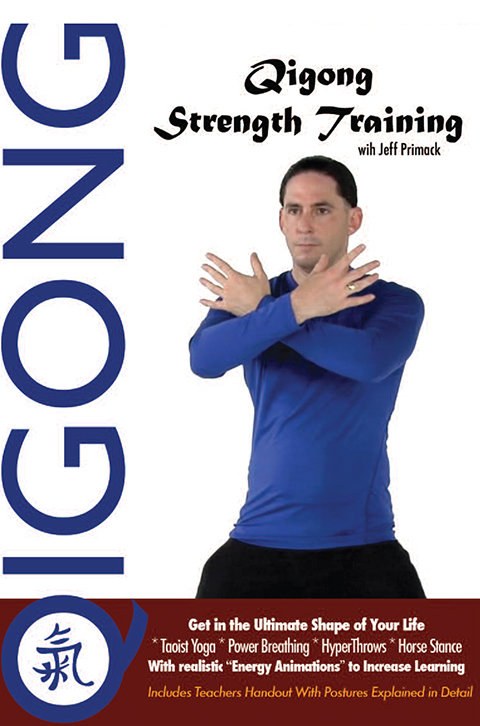 Qigong Strength Training Routine
Includes: 43 minutes Qigong Intense Routine. Guided Instruction: Warm Up, Body Weight Exercises Hyperthrows, Horsestance, Warriors 9-Breath Method and others. Bonus footage; Theory on this routine and qigong breathing during intensive exercise.
Picture below shows Jeff Primack on veteran's day performing 750 pushups (all-the-way-up-and-down). Jeff says we can recover faster in exercise with qigong breathing. This intense routine builds muscle and increases metabolism. Because it has QIGONG built into the strength training, it actually has healing effects.